The establishment of the business is the 43rd year now since 1965. The president is the second generation. The 14 employees are gthe people of the best ".
1. Our theme is gcontributing to as suggestion type company" . We mainly work for sale of the production of the automation device and manufacture of the total system order maid type including the design soft, machine and electricity.

The business of the technical trust processing of minute technology for five years, too.

We are selected as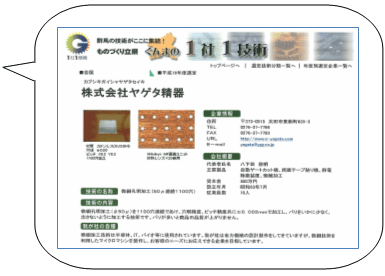 g one technology one companyh
in Gunma two years ago
( Dec. 2006j

We are evaluated as labor saving and
the automation machinery is specifications
from customers. We reflect a function,
operability and, on the basis of the introduction
of the advanced technology, try for manufacturing
full of the original nature and have evaluation.